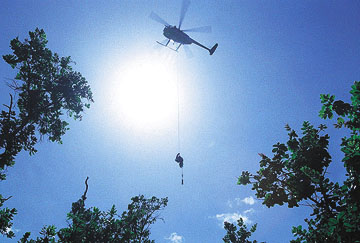 A Big Island officer rises out of the Puna landscape with marijuana plants strapped between his legs. It's the latest technique for police in a game of changing tactics between law enforcement agents and marijuana growers.

Marijuana crackdown yields troubled harvest
The war began on the Big Island as a clandestine police operation called Green Harvest. In the years since, battles have spread throughout the Islands and shaped both politics and police work.

Big Island police have imposed their own 500-foot minimum altitude but still need to fly low to bring officers in and out of patches of marijuana plants.

To be sure, Operation Green Harvest succeeded in driving some big operators out of business and reversing a perception of lawlessness, especially on the Big Island. But acres of land once filled with marijuana plants the size of Christmas trees merely gave way to countless plots of tiny plants, tended by small-time dealers who learned the hard way how to evade drug enforcement helicopters.
Growers lost homes, went to jail, died in drug disputes. Police officers arrested friends and family and were targeted by crude booby traps. Caught in the middle were angry noncombatants, people in remote places such as the Puna District who grew weary of police helicopters ruining their peace.
Even as police hacked and buried millions of plants, marijuana wove itself into the fabric of life in the Islands. Pakalolo continues to fuel an underground economy where it is the currency for everything from car repairs to baby-sitting.

In just five minutes, a pair of Big Island vice detectives rappelled in and out of a grove of ohia trees to cut 110 marijuana plants.

"The problem here is the ideal growing conditions and the sheer vastness of the growing area of the Big Island, the lush wilderness and fertile valleys," said Big Island Police Chief Wayne Carvalho. "Pakalolo grows wherever you'll find the green, green grass of Hawaii."

No one knows how much the war on marijuana has cost, the manpower consumed, the volume of plants seized or the number of dealers put out of business.

Some Hawaii law enforcement officials said they probably have the information but don't have the personnel to compile it. Others said it would be impossible to comply with The Advertiser's request for an overall estimate of the costs because agencies keep records differently.

The data that various agencies can provide hint at the enormous size of the marijuana industry.

In 1998, Hawaii's marijuana campaign seized 772,401 plants, more than any other state's marijuana program. In 1997, the National Organization for the Reform of Marijuana Laws estimated that Hawaii's pakalolo industry produced 250,000 pounds, ranking it fifth in the country, behind California, Tennessee, Kentucky and Florida.

Tom Kelly, assistant special agent in charge of the Drug Enforcement Administration's Honolulu district office, said it's impossible to estimate the size of Hawaii's marijuana industry. He won't guess how much comes in and how much is shipped out each year by plane, boat and mail.

"There's no way for me to know out of 100,000-plus plants that are eradicated, how many more weren't eradicated, and how many went to Guam or the Philippines or California," Kelly said. "If we knew where they were going there, we'd have stopped them."

Is Hawaii better off for having declared war on marijuana?

A review by the DEA's audit division concluded in 1995 that: "Presently, analysis of the effectiveness of marijuana eradication efforts in Hawaii County — or any other jurisdiction — is hindered by a lack of reliable data about the extent of illicit cultivation."

The alternative — putting an end to the marijuana campaign — is unthinkable to Carvalho and other law enforcement officials.

Allowing marijuana growers to operate unchecked would send the Big Island back to the dark days of the 1970s, he said, when hunters and hikers were confronted by growers carrying shotguns and rifles. Drug dealers killed one another. And utility company linemen were shot at — just because they had a view of marijuana fields.

"People say marijuana is a victimless crime," Carvalho said. "We had homicides. A lot of people forget about that. Once we let up or slow down, it's just a question of time when we'll have a major problem again."

Even today, a Big Island bulldozer operator who clears the old sugar cane fields tries to accommodate marijuana growers when he comes across their plants. He methodically grooms the area while leaving the marijuana alone. It's his way of letting the growers know that someone is in the area without hurting their business.

Still, he can't avoid trouble. Eight of his bulldozer engines have been destroyed when people poured sand into the engines.

"You fire it up and aloha, it's gone," he said.

"I don't want to get involved," said the operator, who did not want his name used out of fear of retaliation from growers. "Guaranteed, I don't want problems. I don't know why they do this."

Judith Mura's problem isn't with the growers. It's with the campaign to stop them.

The eradication helicopters have flown so low over Mura's house in Puna Palisades that they rattle the roof and walls, she said. The noise sometimes gives Mura's 5-year-old daughter, Jordan, nightmares.

"They call it a war on drugs," Mura said, as Jordan bounced on a trampoline in their front yard. "This is a war on our own people. How can the United States of America declare war on its own citizens?"

© COPYRIGHT 2000 The Honolulu Advertiser, a division of Gannett Co. Inc.
Page posted on: Sunday, April 2, 2000.